Texas AFT: Local unions succeed in securing salary increases and retention bonuses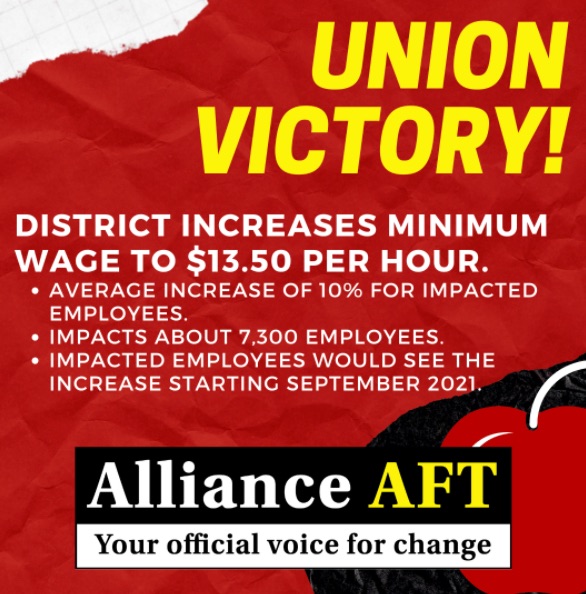 Unlike 2019 state law which sent new funds to school districts for required salary increases, local school boards are responsible for all compensation changes.
Our local unions have been working on campaigns over the past two months to demand higher wages for all school employees. Here is a list of recent successes and some ongoing action campaigns to help you win.
McAllen AFT the campaign for the raises was successful as McAllen ISD achieved most of the compensation plans offered. The union secured a 2.5% increase for all employees, a one-time retention bonus of $ 3,000 for all full-time employees and a summer hourly rate of $ 50 for teachers.
Alliance / AFT won a huge victory last week as Dallas ISD administrators approved the district-wide minimum wage increase to $ 13.50 an hour. Alliance / AFT plans to continue fighting for their additional demands until June 24, when administrators will vote to approve the final budget for the 2021-2022 school year. The union encourages its members to to write letters to the trustees asking them to approve the entire union program.
Houston Teachers Federation successfully lobbied the Houston ISD School Board to approve a $ 2,500 increase for teachers and staff on the teacher pay scale and a $ 500 retention bonus for all employees returning to HISD in September.
While this is a huge win for HFT teachers, support staff have been left out of this pay rise. Therefore, the union will continue to fight for increases for support staff. They encourage their members to to write letters administrators asking them to spend a pay raise for teaching assistants, clerks and hourly support staff.
AFT Northeast Houston has achieved major victories in two of the school districts they represent, Galena Park ISD and Sheldon ISD. The school boards of the two ISDs approved a 3% salary increase for teachers and support staff.
Aldine AFT Advocate for a critical 2% salary increase and an additional $ 1,500 for Aldine ISD teachers and support staff on the recommendation of their interviewed members. They encourage their members to to write letters to the directors of Aldine ISD asking them to approve their requests.