General Meeting Appoints Two New App State Board Members | USS News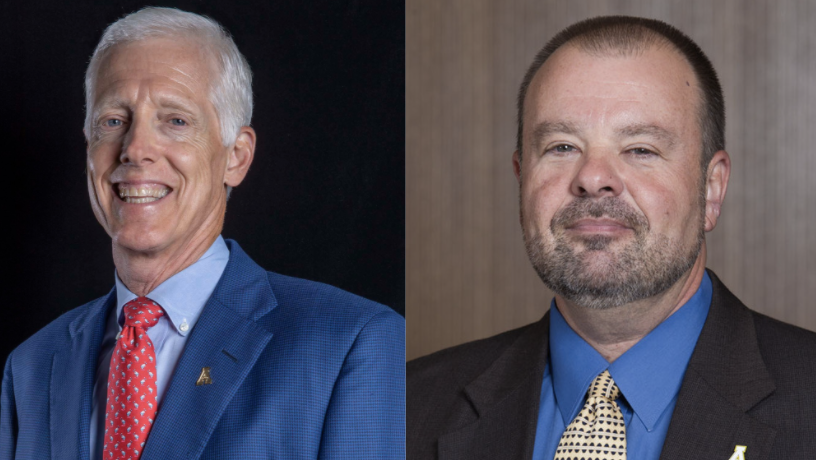 BOONE – The North Carolina General Assembly has appointed two new members to serve on the Board of Trustees of Appalachian State University.
In June, the House of Representatives appointed James "Jamie" E. Harris of Charlotte and the Senate appointed Steven D. Wyatt of Hendersonville.
The two Trustees began their terms on July 1 and will serve for four years.
According to App State, Harris graduated from App State in 1984 with a Bachelor of Science in Business Administration in accounting and played college baseball for the Mountaineers. He was a member of the 1984 Southern Conference Championship team and was named to the All-Southern Conference and NCAA Academic All-America teams.
Since August 2020, Harris has served as Chief Financial Officer and Treasurer of SPX Corporation, a diverse global supplier of infrastructure equipment.
Prior to SPX, he was CFO and then CEO of Elevate Textiles, and was CFO and then Executive Vice President for Business Transformation and Commercial Services at Coca-Cola Consolidated. He previously served on the board of directors of Coca-Cola Consolidated and Acosta Sales and Marketing, according to App State.
He is an emeritus member of the Walker College of Business Advisory Board. In addition to his undergraduate degree from App State, he holds an MBA from Wake Forest University.
Wyatt graduated from App State in 1983 with a Bachelor of Science in Social Sciences and went on to serve as Chairman of the App State Board of Visitors. For the past 15 years, Wyatt has served as the Director of Henderson County. He has nearly 40 years of city and county management experience including Moore, Polk and Catawba counties and the towns of Chadbourn, North Carolina, and Kingstree, South Carolina.
He is a recipient of the App State College of Arts and Sciences Outstanding Alumni Award and was a founding member and past president of the University's Local Government Alumni Association, whose mission is to support training vocational training and continuing education. In February 2021, Wyatt received the prestigious John Whitehurst Service Award at the North Carolina City and County Management Association Winter Seminar for his service and dedication to the management of local governments.
Senator Chuck Edwards (R – District 48) posted on Facebook that he was "honored to carry his nomination" through the North Carolina Senate because he said he nominated Wyatt for the post.
"Steve has served the citizens of Henderson County remarkably," Edwards wrote. "It thinks outside the box, protects our taxes and stays true to our conservative mountain values. These traits, along with his knowledge of the needs and shortcomings of our university system, uniquely qualify him to fulfill this important role. I named him because I know he will make a positive difference for ASU students, their families and our taxpayers.
According to the university, the board of trustees is a 13-member body that promotes the development of the institution within the functions prescribed by the board of governors of the UNC. The council serves as an adviser to the board of governors on matters relating to the university and also serves as an adviser to the chancellor on the management and development of the Appalachians. The powers and duties of the Foundation Board are mainly defined and delegated by the Board of Governors.
Individuals are appointed for four-year terms by the President pro tempore of the Senate, the Speaker of the House of Representatives and the UNC Board of Governors. Also on the board are James Barnes, John Blackburn, J. Jeffries Chesson, Fairley Bell Cook, Bailey Gardin, Scott Lampe, James Reaves, Mark Ricks, E. Bonnie Schaefer, Kimberly Shepherd, Thomas Sofield and Steven Wyatt.
The board is due to meet on September 24.