Covid-19 and black fungus cases in Maharashtra, Delhi, UP, Kerala, Tamil Nadu today Latest News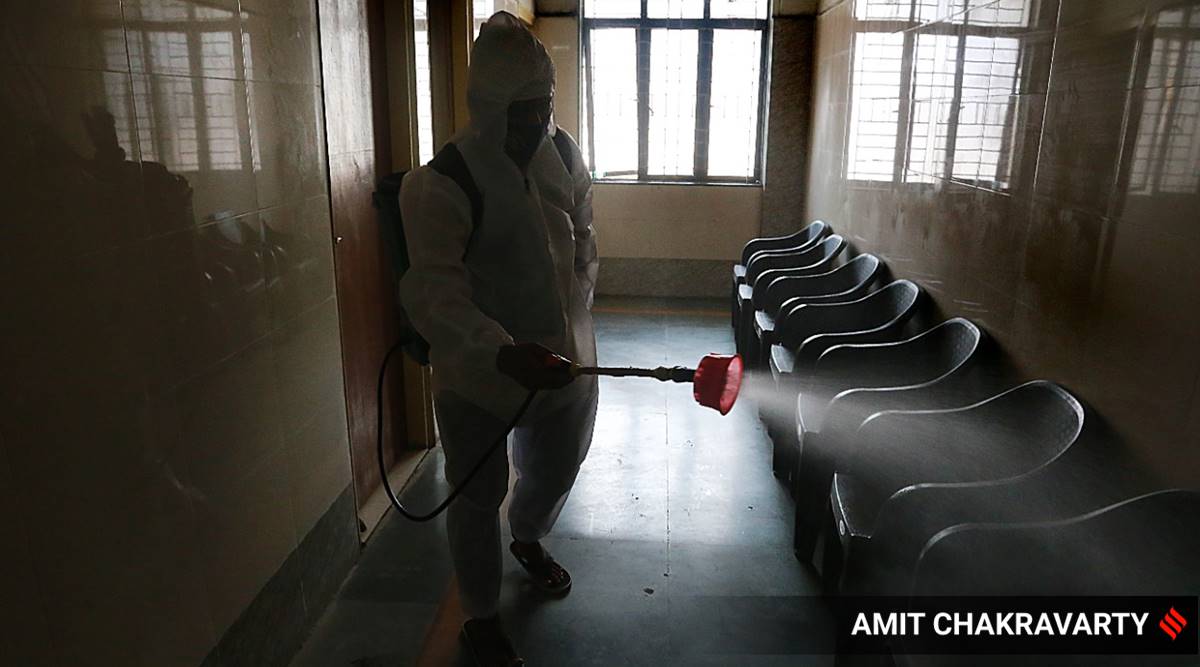 On Friday, a man sterilizes the maternity hospital of Shivaji Nagar BMC. (Express photo by Amit Chakravarty)
Meanwhile, just nine corporate hospital groups in major cities grabbed 50% of the Covid-19 vaccine stock destined for the private sector in May, reflecting the issue of vaccine inequity.
These nine corporate hospital groups purchased a total of 60.57 lakh doses out of the total 1.20 crore vaccine doses purchased by private hospitals in the first full month since the central government revised its policy on vaccines and opened it to the market. The remaining 50% of the vaccine stock was purchased by some 300 hospitals, located mostly in urban centers across the country, with almost none serving areas beyond Tier 2 cities.
The head of India's Covid-19 task force on Friday said the decision to vaccinate children was "under constant review" and stressed that once the deployment for children is completed, all must be covered at the same time .
When asked if the government was considering a plan to purchase Pfizer's approved mRNA vaccine for the 12-18 age group in the United States, Dr VK Paul said India would have need about 25-26 crore doses to immunize children.
Meanwhile, cornered from selling Covid vaccines to private hospitals for a profit, the Punjab government ordered on Friday that the doses be returned with immediate effect. The government had sold 42,000 doses of Covaxin – out of the 1.14 lakh it had bought on May 27 from Bharat Biotech at Rs 420 a dose – to more than 20 private hospitals for Rs 1,060 each. Hospitals, in turn, billed recipients Rs 1,560 for a dose.
The government had thus made a profit of Rs 5.28 crore – buying the vaccines for Rs 3.20 crore and selling them for Rs 8.48 crore. As the issue snowballed into controversy, Nodal vaccination officer Vikas Garg issued an order asking private hospitals to return vaccines. "The order to provide single doses of vaccines limited to the population in the 18-44 age group through private hospitals was not taken in the right spirit and is hereby withdrawn. In addition, it was decided that private hospitals would return without delay all vaccine doses available with them… "